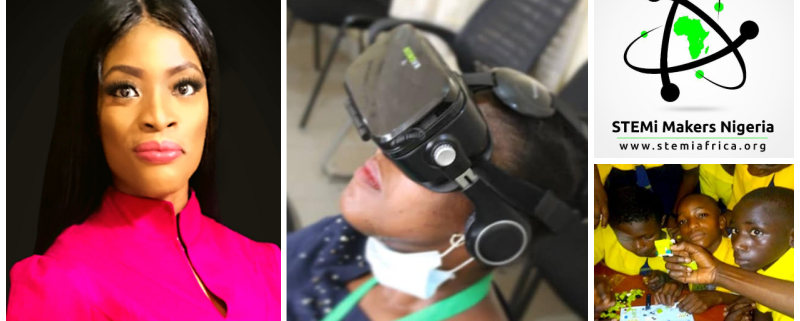 Why should anyone use your service or product?
We have a teacher-centered learning platform where educators can access STEM resource tools, activity sheets and can host virtual bio labs to steer practical learning and hands-on experience. STEMi Makers Africa offers a first-to-market approach that combines capacity development and skills in STEM pathways to help young talents access new markets, work flexibly and integrate these learned skills needed for the workplace – after they are digitally empowered. These causes are prerequisites that stimulate socio-economic development, innovation and produce an inclusive workforce to drive and respond to technological advancement, which lies at the center of our economic prosperity.
Tell us a little about your team
Establishing STEMi Makers Africa began in a quest to learn, research, and identify young partners and team who understood the necessity of STEM Education and empowering the younger generation to match world-standard pathways. This led to building a formidable team and facilitating inter-state and country networks to coordinate community STEM activities. The leadership team is made up of 10 young leaders who epitomize this aspiration with proven work experience in community mobilization, monitoring and evaluation, project management, operation and technical support. We strive to create a unique, engaging work environment that fosters the kind of loyalty and long-term commitment that makes for consistently happy employees, beneficiaries, communities and customers. For our country network, we developed roles and responsibilities to achieve distributed country leadership either by election or appointment (for example, vice-curator, impact lead, recruitment lead or sustainability officer). Team members are recruited and registered on our platform while ensuring new members are diverse in expertise, education, income and tribe.
Share a little about your entrepreneurial journey. And do you come from an entrepreneurial background?
I obtained a Diploma and Higher Advanced diploma in Business Management from the Obafemi Awolowo University, Ile-Ife. After I founded STEMi Makers Africa, I begun consulting as a Data Scientist in helping small businesses determine profits, helping them make better decisions and profit projections. I also consult in foreign education where I help Africans prepare for international examination and find affordable universities to study abroad. It's been a tremendous experience.
What are your future plans and aspirations for your company?
To promote an enabling environment for 100,000 women employment and increased girls' participation in STEM. In addressing the leaky unemployment, we would be offering 400+ skills-based training through a triangular approach (an offline learning management system pre-installed with over 600 Courses, instructor-led live classes and online classrooms accessible to 19 countries in Africa). To offer quality STEM Education and resource tools to 120,000 classrooms by 2030.
What gives you the most satisfaction being an entrepreneur?
One of the most satisfying experiences as an entrepreneur is the opportunity to share my knowledge, story and provide entrepreneurship support to people and young start-ups. As Africans, we need to encourage and complement on the resources we can provide to each other.
What's the biggest piece of advice you can give to other women looking to start-up?
My advice is to be open to learning from women's stories. Shared experiences from women who have existing businesses and start-ups can pave a lasting way for women who are about to launch their businesses in learning business ethics and challenges encountered.
Please do not focus only on hearing the success sides or accomplishments of others  but strive to know the challenges, setbacks and hurdles they encountered. This can help you overcome futuristic and business tendencies to failure.
Feel free to network, attend business seminars (virtually or in-person), and most importantly, get a business mentor who is accessible. Someone you can always feel free to ask questions or give you that business support or counsel you may need.
Contact or follow STEMi Makers Africa
WEBSITE | FACEBOOK | TWITTER | INSTAGRAM | YOUTUBE | EMAIL  amandachirpy@gmail.com
https://nileharvest.us/wp-content/uploads/2021/03/STEMi-Collage.png
400
800
super-admin
https://nileharvest.us/wp-content/uploads/2020/11/logo.png
super-admin
2021-03-26 22:45:25
2021-03-26 22:45:25
Amanda Obidike, an award winning Nigerian social innovator in STEM — Lionesses of Africa