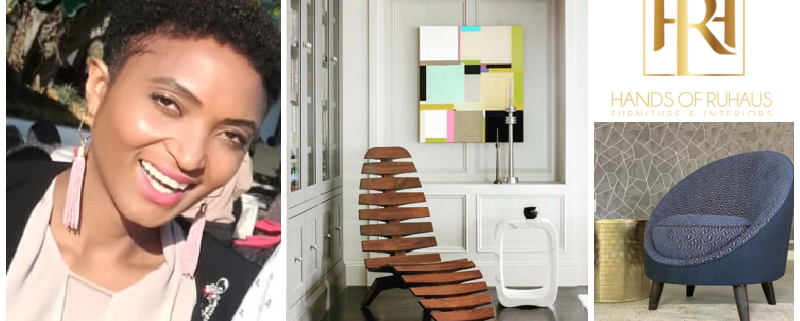 Impact Partner Content – Absa
Emelia Maliti-Ntshwe is a South African entrepreneur and the owner of Hands of Ru Haus Interiors, otherwise known as Ru Haus Furniture Manufacturers, which she launched in 2016. The business has a factory in Mahikeng and showroom in Hartbeesport. Emelia has a background in communications having studied for her BA Communications and Masters Of Business Administration (MBA) In Leadership And Human Resource. Prior to becoming an entrepreneur, she ventured into the field of training in Internal Communications, Public Relations, and Leadership Skills, extending her passion for Women And Youth empowerment. She gives talks to graduate and post-graduate students at Universities, Women In Government Departments, and the youth within her community. Emelia also volunteers serving as Chair on the Mahikeng Campus Alumni Support Committee Of The North West University (NWU). She has been recognised with many accolades for her work over the years including being the winner of the prestigious NWU Alumni Awards In Business Leadership 2019, and the winner in Productivity South Africa's Regional Awards 2019 For Best Emerging Sector: Manufacturing, for her company Hands Of Ru Furniture Manufacturers. 
Hands of Ru Haus Interiors is one of the 117 companies showcased at the Absa Lionesses Xpo. Lioness Weekender spoke to Emelia about her entrepreneurial journey to date and her ambitions for the future. 
What does your company do?
We design contemporary and classic furniture, customizing bespoke and unique pieces to suit clients' tastes. We work with households and have begun our extensions into lodges, hotels and corporate spaces. Our designs use both locally and imported fabrics and leathers. We create visuals for clients and match their spaces to moods, feels and organizational culture and branding. We source our wooden supplies locally, use young local designers, with the 80:20 rule of using local raw materials in product manufacturing.
What inspired you to start your company?
A trip to Zambia, witnessing craftsmen working under a tree without industrial machinery, with nothing but an axe and fire. This intrigued my interest in design and usage of wood. They ignited in me a passion to create beautiful spaces that are unforgettable. My children also were part of the journey, hence the name Ru Haus…LeRuri and LeHau. Therefore, this is all for them!
What makes your business, service or product special?
We work with a small group of persons, including suppliers of our raw material and workers. It's a close knit unit, thus making it easy to identify and resolve any faux pas. Also, this is a family business, therefore the aim is for us not to let our clients down, as we have the most to lose. Small a company as we are, we prefer it that way as it gives our clients a more personalized sense of belonging. Our customers are not just another cheque in the pocket, they're valued.
Tell us a little about your team
The Hands of Ru Haus team is made up of a floor factory manager who is a youth, 2 mature manufacturers who work in our upholstery and wood frame making sections, and a young male designer. We recently embarked on acquiring a steel frame maker, or iron-smith, for the wooden and steel combinations.
Share a little about your entrepreneurial journey. And, do you come from an entrepreneurial background?
I have always been entrepreneurial, and creativity is always on tap. I ventured into a food delivery service in Mahikeng, the first ever business of its kind in the city. Due to financial constraints emanating from very few restaurants in the town, it was not making business sense to keep the delivery service running. I also run a kiddies hair salon, which is currently under rebranding and relocation from Mahikeng to Hartbeesport. The salon was also a first of its kind in Mahikeng, as it caters for children only. There are many more ideas under construction, and I cannot wait to introduce them to the Lionesses of Africa community once conceptualized and once they've materialized.
What are your future plans and aspirations for your company?
I envisage long term contracts within the tourism industry, i.e. bed and breakfasts, lodges and hotels, restaurants, and corporate business spaces and office buildings. We all need furniture in our spaces, therefore as Hands of Ru Haus we would like to tap into all these opportunities. Not only in South Africa, but to explore the African continent.
What gives you the most satisfaction being an entrepreneur?
The joy I see on a customer's face after delivery of their furniture gives me the utmost satisfaction. It always gives me the validation that the long hours spent are all worth it. And of course the financial independence that comes with it. Although we have not yet arrived at huge profit margins, I am patient that with hard work and perseverance, the business will be able to sustain itself. My hope is that this business transfers from my generation to the next.
What's the biggest piece of advice you can give to other women looking to start-up?
1. Firstly, be certain of the ventures you want to partake in. That certainty will be your support crutch when things do not go your way, when finances are challenging, or when sales are slow.
2. Choose a venture that you're passionate about. It can be 1, it can be 5. But they must all matter as though they're your little babies.
3. Treasure your business as though your life depends on it, because it does; literally.
4. Research, research, research. Never stop learning more about the industry you're in. New regulations, new financing opportunities, new products etc. Just keep the information flowing.
5. Hire a team that is willing and able. If there's no will, then your business will be stagnant. You team makes the business. There's nothing worse than a great vision and passion being deterred by an unwilling workforce.
To find out more about Hands of Ru Haus Furniture, contact founder, Emelia Maliti-Ntshwe and her team via email: info@handsofru.co.za or visit the website and social media pages. 
https://nileharvest.us/wp-content/uploads/2021/03/HandsofRuhaus-Collage.png
400
800
super-admin
https://nileharvest.us/wp-content/uploads/2020/11/logo.png
super-admin
2021-03-27 05:11:07
2021-03-27 05:11:07
Emelia Maliti-Ntshwe, a South African entrepreneur manufacturing and retailing unique furniture — Lionesses of Africa